SERVICE
Forging Division
Taiwa's main products are forged by hot forging and Taiwa has capabilities with non-ferrous metal such as copper and aluminum alloy.
Taiwa has been making efforts to build the highest quality Pinfin heatsinks to be recognized as the highest quality in density and strength.
All process are handled inside of the Taiwa factory.
Taiwa takes care of the products from the raw material to machining and surface treatment such as plating with consistent quality control and assurance.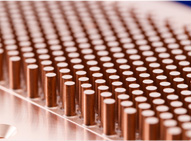 Precision forging(Pinfin)
Taiwa forges pinfin-form by hot forging. It is possible to produce both copper and aluminum. Taiwa has the ability to produce both round and square Pinfin heatsinks.
Undercut forging (4 direction forging)
Producing undercut form was difficult with conventional forging methods.
Taiwa has created an original method of simultaneous forging from 4 directions.
This method provides mechanical strength.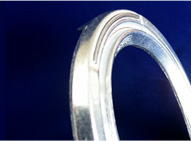 Insert forging
Taiwa has techniques to insert different metal materials by forging.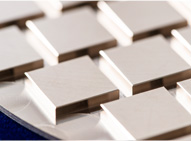 Machining
Detailed machining on copper and fine machining on other materials